Hi guys. Time keeps marching on here and I can't believe that it has been a few days since I last posted!!
If you scroll down a little bit you will notice that there are some new blinkies in my sidebar. The Stamp Man people have been very busy recently and not only are they hosting a new ATC blog but now they are setting up a new Fortnightly Challenge Blog too!! As you already know the ATC swaps are up and running and we have already had some marvellous entries.
Click here
to go and visit and see the ATC's and learn how to win some blog candy.
The new FortnightlyChallenge Blog will be going live very soon in a weeks time.
Cick here
to find out all about it.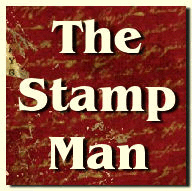 Anyway all this talk of challenges has made me decide to try and enter some challenges now and again and after having a brief blog hop this morning I have stumbled on yet another new challenge blog called
Penny Black At Allsorts
so having made a few Penny Black cards recently for The Glitter Pot's demo weekend, I thought I would enter one into their very first challenge called
A Burst of Summer Colour
.
So here is my entry for this challenge using the Penny Black
Sunny Days
stamp. I don't think anything can say 'summer' better than sunflowers! I just love their cute stamps and this is just so sweet!
As you can see I did quite a bit of decoration for this card. The delightful background paper is from the Kioshi Collection by Basic Grey and is called
Motochi
. I used my tiny daisy punch and also a
McGill pine punch
to decorate around the wonderful
Prima
flowers.
You can see these extremely pretty flowers a bit better in this photo. They are from the Athena range and I just added some Platinum glitter glue around the edges of the petals and some Diamond glitter glue to the centre.
The main Sunny Days image I stamped onto smooth white card using Tuxedo Black Memento and then coloured using Copic markers. After I'd done my basic colouring I added some shimmer using the Copic Spica clear pen and some Diamond glitter glue.
All of the items mentioned can be bought from
The Glitter Pot
apart from the McGill punch which I purchased from
The Hobby House
.
I hope you like it!